About Me
Hi, and welcome to msjudyjones.com! I am so excited that you've chosen to visit my website today. In today's world, business owners face so many unique challenges that they often feel unprepared for. The business world moves quickly and I am dedicated to help all business owners feel more prepared and secure as they face this fast-paced and ever changing environment. Through suggesting ways to address and solve pressing business issues, I have created a platform for all users to quickly gain access to resources that will help them in their everyday lives.
As a start-up entrepreneur and savvy business owner who is focused on growing their business both on and offline, the key to success is time ownership. When you truly own your time, you are able to do what you want when you want. You can lead a life that will help you achieve your personal and professional goals in a way that is as least stressful and consuming as possible. Whether you want to be a high-level executive or run a successful business while dedicating equal time to your family or traveling, I'm confident that msjudyjones.com can help you align with your deepest intentions and manifest your business into the world.
Because we'll be working so closely with one another, I'd like to tell you a little about myself. Currently, I am a breakout entrepreneur focused on assisting consumers with credit restoration. I've also spent the last 17 years working as a Registered Nurse. I'm the proud mother of one and grandmother of five and truly understand the desire to balance work and family life. Because of my personal experience with this, I believe that I've created a platform that will help you find that balance with any aspect of life you wish to focus on.
My passion is helping to develop new business owners in growing their credit restoration as well as educating network marketers in lead generation and the art of attraction marketing. I live by Mahatma Gandhi's profound words, "We find ourselves in the service of others" and I believe that these words help fuel my success in making other business owners function as highly as possible. I have been lucky to find a higher purpose in serving those who choose to partner with me, both with patients as a Registered Nurse and now as a business owner and entrepreneur. When you succeed, I succeed and I am dedicated to helping you propel that success as far as it can go.
Thank you again for visiting me here at msjudyjones.com! Please feel free to reach out with questions, comments or requests for specific topics that are covered in my weekly blog postings. I truly love hearing your input and insights regarding your own online business and I believe that this is what makes us all successful in our continued discussions of online marketing. I'm honored and excited to help you grow your business and can't wait to get started!
THE TOP EARNER FRAMEWORK?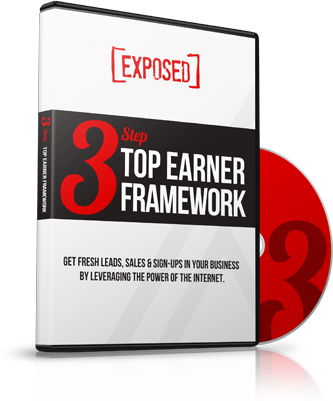 FINALLY Unlock the 3-Step Framework and Learn How to Get Fresh Leads, Sales & Sign-Ups in YOUR Business Leveraging the Power of the Internet.